Charcoal detox-effect mask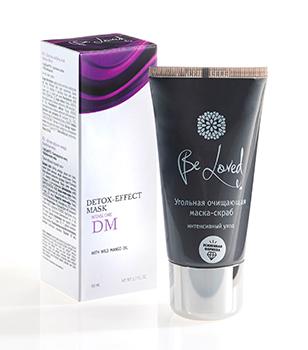 Intensive cleansing care
Active mask, based upon a powerful natural adsorbent, which deeply cleanses and eliminates imperfections, such as oiliness, black spots and inflammations. Due to the healing properties of natural wood, charcoal has enormous number of benefits, such as improvement of skin metabolic functions and oiliness reduction. Natural wild mango oil gently treats skin making it even, fresh and radiant.
Your skin needs detox as well as your body. Deeply cleansing mask, based on natural charcoal, which provides easy exfoliation of dead cells and smoothes skin texture. It effectively reduces black spots, shrinks pores, stimulates blood circulation and active components penetration. The mask has an anti-bacterial effect, while nourishing it and making it smooth and velvety.
For:
Those who are looking for personal treatment program.
Those who appreciate stylish packaging.
Those who consider quality and safety important.
Those who need to see results.
Visible result. Intensively moisturizes, improving skin condition. Proved to be effective by customers' feedback and independent voluntary testing.
Be Loved cosmetics is based on the newest scientific developments in cosmetology and unique components, that recover skin by cells regeneration.
Gentle care. All the products are free from parabens and SLS.
Perfect textures. Lightweight creamy textures that melt into the skin, giving you a feeling of a premium care.
French fragrances. Subtle and refined scents from Grassa city - the world's perfume capital.
WATER*, CARBO ACTIVATUS*, CELLCODE57*, KAOLIN*, MANGIFERA INDICA SEED OIL*, DECYL GLUCOSIDE*, GLYCERIN*, HECTORITE* AND HYDROXYETHYLCELLULOSE, AVENA SATIVA (OAT) EXTRACT*, EMBLICA OFFICINALIS FRUIT EXTRACT*, SALIX ALBA BARK EXTRACT*, PERILLA FRUTESCENS (SHISO) LEAF EXTRACT*, SAPONARIA BARK EXTRACT*, CHAMOMILLA RECUTITA FLOWER EXTRACT*, HYDROLYZED WHEAT PROTEIN*, SODIUM BENZOATE (AND) POTASSIUM SORBATE, XANTHAN GUM*, SILVER CITRATE, FRAGRANCE.
*Natural components
Active components:
Building material for cells CellCode®57 (21 amino acids, 19 vitamins, 8 mineral salts, 6 nucleoids, 3 carbohydrates.) – 57 elements for a normal cell functioning. It's an exclusive development of Russian scientists, which is able to start regenerative processes in skin, stimulate new cells creation and provide a long-term anti-aging program. It's easily absorbed by skin, while bringing active components to the deepest layers of epidermis.
Activated charcoal deeply cleanses skin, effectively reduces black spots, regulates sebaceous gland function.
Wild mango oil has perfect moisturizing and soothing properties. Protects and recovers skin, making it soft and silky.
After general cleansing, apply to wet skin, avoiding eye area.
Massage with circular motions and leave for 3-5 minutes if needed.
Rinse with warm water.
Use 1-2 times a week.