Exfoliating enzyme peeling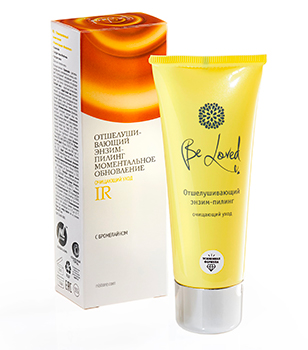 Enjoy the special treatment with enzyme peeling, which deeply cleanses your skin, transforming and recovering it. Lush fruity aroma with hints of sandalwood and nutmeg will give you joy and good mood. The peeling is based on bromelain, which is a plant enzyme, produced from pineapple. It gently exfoliates dead skin cells and is suitable for very sensitive skin. More than that it stimulates regenerative processes at cellular level. As a result, your face looks smooth and rested.
For all skin types
75 ml
Made in Russia
Gently cleanses and stimulates regenerative processes at cellular level. Minimizes small wrinkles, increases skin elasticity and evens complexion. It gives your face healthy blush and makes it look velvety.
For:
Those who are looking for personal treatment program.
Those who appreciate stylish packaging.
Those who consider quality and safety important.
Those who need to see results.
Gently exfoliates without damaging.
Suitable for sensitive skin.
Enhances appearance and skin tone.
Active components: bromelain, saponaria extract, willow cortex, perilla extract.
Ingredients: WATER, DECYL GLUCOSIDE, GLYCEROL, SAPONARIA BARK EXTRACT, SALIX ALBA BARK EXTRACT, SHISO EXTRACT, BROMELAIN, HYDROXYETHYL ACRYLATE/METHOXYETHYL ACRYLATE COPOLYMER (AND) SODIUM ACRYLATE/SODIUM ACRYLOYLDIMETHYL TAURATE COPOLYMER, XANTHAN GUM, SILVER CITRATE, FRAGRANCE.
Apply evenly to dry and clean skin, avoiding eye area.
Remove peeling with wet sponge in 10-15 minutes, rinse with water.
Use 1-2 times a week.
Do not use if intolerant to any of the components.