Fruit bar with dates and oranges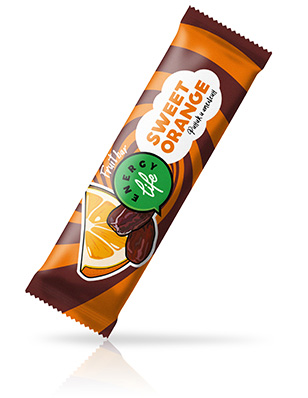 In ancient time, Bedouins ate dates to survive in deserts and keep body energized. Today, date bars are a nutritious and delicious snack, which is suitable for both, kids and adults. Take advantage of the gentle sweetness of this eastern fruit, balanced with a slight sour hint of orange. Fragrant oranges are a source of vitamin C, pectin and good mood. The gifts of deserts and tropics are for you to boost your energy and mood.
120 kcal
Net weight: 40 g
Made in Russia
Energy life date bars are a healthy alternative to sweets and candies. Due to a big amount of natural sugars, dates help to fight sugar craving and give an energy boost. The product contains a lot of healthful substances, such as proteins, minerals, vitamins, amino-acids, pectin and food fibers, necessary for a normal functioning of a body. The reasonable daily intake is not more, than 5-7 dates. This is exactly the amount, containing in one Energy life bar. Energy life date bar will keep you energized for the whole day.
For:
Those, who want an energy boost.
Those, who love sweets.
Those, who want to have a healthy snack.
Those, who are looking for natural vitamins.
Vegetarians.
Only natural components. The technology of minimal heating and the use of high quality cocoa butter, save the original taste and quality without preservatives.
Contains a lot of dry fruits. Each bar has up to 98% of choice freshly harvested fruits and berries.
Maximum amount of vitamins. Energy life bars contain naturally grown fruits and berries, without GMO and chemicals. Iranian dates are harvested, when they are already dry, that's why they don't need much processing. Low heating temperature saves all the healthful substances.
Minimum amount of natural sugar. Gentle preparation process, without boiling, saves fruits' and berries' natural sweetness (a small amount of sugar is contained in candied fruits and zest).
Suitable for vegan nutrition.
Easy and convenient. Sates hunger at work, at school, or on the go.
Date, orange zest (orange zest, sugar, rice four), cocoa butter.
| | | |
| --- | --- | --- |
| Nutrition value | Per 100 g | Per 1 bar (40 g) |
| Energy value kcal/kJ | 280 (1180) | 120 (490) |
| Protein | 2,5 | 1 |
| Fat | 2,5 | 1 |
| Carbohydrates | 61 | 26 |
The product is ready for consumption.
Do not consume if intolerant to any of the ingredients. The product is of natural origin and can contain pieces of fruit pits.