Fruit bar with wild strawberry and banana.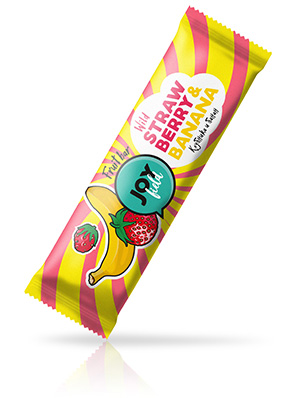 An unusual combination of wild strawberry and tender banana give a vitamin and energy boost, especially in winter time. It is a limited edition, made of season berries. The taste of strawberry and banana, familiar from childhood times is light and sweet and sour. Don't be late to taste the summer!
Net weight: 30 g
Made in Russia
Joy field fruit bar with wild strawberry and banana is a healthy and delicious treat, which sates hunger and boosts the immunity. It contains 96% of dried fruit and vegetables, all the necessary vitamins, microelements and cellulose. Joyfield is a natural taste of ripe and ecologically clean fruits and berries, grown under the real sun.
For:
Those, who love having a healthy and delicious snack.
Those, who love sugar-free sweets.
Those, who are looking for natural vitamins.
For kids, vegans and vegetarians.
Contains a lot of dry fruits. Each bar has up to 98% of choice freshly harvested fruits and berries.
Healthier than fruits sold in shops. Joyfield bars contain fruits and berries, ripen naturally, without GMO and chemicals and processed right away.
Minimum amount of fructose. Gentle preparation process, without boiling, saves fruits' and berries' natural sweetness.
Suitable for dietary, vegetarian and fasting nutrition.
Easy and convenient. Sates hunger at work, at school, or on the go.
Suitable for kids. Activates mental processes, boosting immunity.
Banana puree, freshly frozen wild strawberry, dried apple, gum arabic (stabilizer), potassium sorbate (preservative).
| | | |
| --- | --- | --- |
| Nutrition value | Per 100 g | Per 1 bar (30 g) |
| Energy value kcal/kJ | 230 (960) | 70 (290) |
| Protein | 2,5 | 1 |
| Fat | 0,4 | 0,1 |
| Carbohydrates | 53 | 16 |
The product is ready for consumption. Can be used to reduce energy value in a diet.
Do not consume if intolerant to any of the ingredients.