Teeth protection drops Functional candies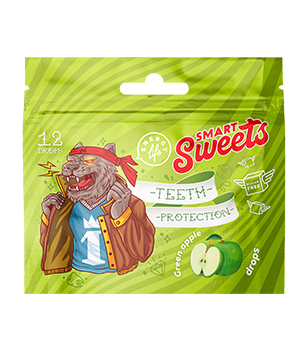 Teeth protection
It's time for dreams to come true – get benefits of eating sweets. Functional candies Smart Sweets are colorful delicious drops made of healthy natural extracts, they contain smart formulas, vitamins and minerals. Functional candies with rich flavor of green apple are a good support for your everyday oral care. The triple action of the components is to strengthen enamel, to prevent decay and to refresh breath.
Oral care and decay prevention. Is it a current issue for you? If yes, then Teeth protection drops are for you. Functional candies with rich and juicy green apple flavor contain three active components which provide triple enamel protection. Calcium replenishes mineral deficiency, xylitol helps to prevent decay, sage has anti-inflammatory and antiseptic effect, lowers teeth sensitivity and freshens breath. Energy life candies could be a perfect finish to complete a meal. They enhance enamel remineralization and normalize pH level. Smart candies are a powerful solution for your small problems.
For:
Those, who care about mouth cavity.
Those, who care about fresh breath.
Those, who want to strengthen teeth enamel.
Those, who choose healthy sweets.
Strengthen enamel.
Freshen breath.
Prevent decay.
Enhance enamel remineralization.
Contain natural active components.
No preservatives, artificial colorants or flavorings.
Sorbitol, acidity regulator, citric acid, sage extract, anti-caking additives: magnesium stearate, silicon dioxide, red vine leaf extract, burdock root extract, nature identical apple flavoring, sugar substitutes: xylitol, sucralose, calcium lactate acidity regulator.
Active components:
Sage extract - provides anti-inflammatory and antiseptic action, freshens breath, protecting gums and healing mucous membrane.
Calcium lactate - strengthens enamel, reduces sensitivity, prevents decay.
Xylitol - provides natural remineralization, normalizes pH level, prevents decay.
Suitable for everyday consumption. Not recommended in case of individual intolerance of the components, during pregnancy and lactation.